Comic Book Science

​A quick cartoon primer on why everyone should read science comics.
---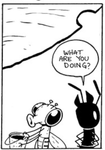 Photosynthesis (or Gimme Some Sugar)
Photosynthesis one of the most important chemical reactions on the planet. It can literally build trees out of air. That may sound unbelievable, but Wilbur and Any Edna are here to walk you through the entire process.
Note of caution: Watch you head.
Read online
Download PDF
---

You're so negative; an ATP Story
Wilbur and Any Edna explore how a fleeting, highly reactive little molecule of ATP makes the machinery of life run properly. Why is it so unstable and how does it make giant proteins do its bidding?
Note of caution: Seriously. Watch your head.
Read online
​
Download PDF
---

The Great Respiration Caper
The energy in a sugar molecule is unlocked through a process of chemical reactions called
cellular respiration.
Getting the maximum amount of energy from a sugar molecule is a heist that requires the specialized teams of molecules.
Final warning: Watch. Your. Head.
Read online
​
Download PDF
---

---


​Surface Area, Volume and The Meaning of Life

Wilbur wants to be as big as a house but Ant Edna has some bad news for him. Wilbur gets bent out of shape, Edna gets him a pet and things blow up. What more could you ask for in a story about surface area to volume ratios?
---


Tag

​Wilbur and Ant Edna play tag. Its all fun and games until someone uses a weaver ant larva to web their friend up.
---


The Flame

What is a flame and how does it work? This comic was my contribution to the Alan Alda Flame Challenge.

---


For Bitter or Worse

What do you do when you have better taste that your boyfriend? This two page comic was published with the article "Female Behaviour Drives Expression and Evolution of Gustatory Receptors in Butterflies" by Adirane Briscoe, et al.
---


​The Diabolical Dr. NoNoNo

A comic ode to the joys of discovery, wonder about the natural world and my sons.

---

​The Life Cycle of a Liver Fluke

Cows pooping! Snails eating the poop! Ants eating snail slime balls! And mind control!. This one illustration is the wonderful convergence of science and everything a middle schooler loves.
---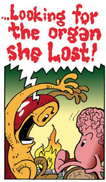 And This Little Piggy Saved a Life!

Biotechnology around the camp fire.

---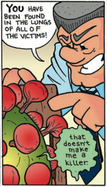 The Conundrum of the Killer Corona Virus

SARS was a stone cold killer that gave detectives a run for their money.
---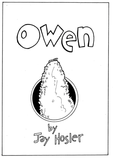 ​Owen the Sponge

​Being a sponge can be straining.
---


Darwin Saves the World

The life of a Victorian naturalist is never dull. This cartoon eventually was worked into the third chapter of my book "The Sandwalk Adventures."
---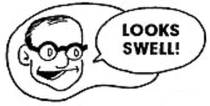 The Scary Story

Miller and Urey's experiment would probably have a much different ending if Hollywood got a hold of it. Still, it is a scary story for some.
---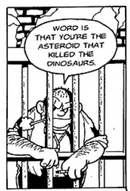 ​The Asteroid and the Inmate

Never give an asteroid the top bunk.
---

​Identity Crisis

​Goodness! What is a platypus to do?
---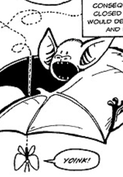 ​The Moth, the Bat and the Mercury Vapor Lamp

​Insects are amazing, but that is no reason to get cocky.

---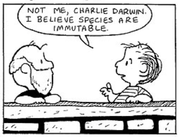 ​
Good ol' Charlie Darwin

​Good Grief!

---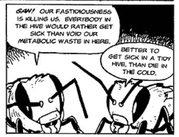 ​​Should I stay or Should I go?

Sometimes you've got to go so bad it's killing you.

---

​Blinding Speed

A story of bad puns and blinding speed based on the work of Cole Gilbert's lab.

---